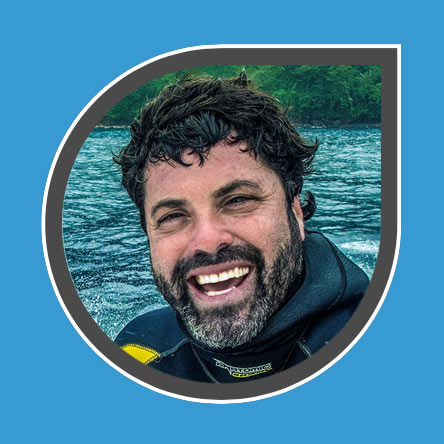 "Submersibles are really the only method for humans to completely explore and study the oceans of our planet."
Ofer Ketter is a man of many facets. An explorer, submersible pilot, diving instructor, certified tour guide, Conde Nast Traveler 'Top Travel Specialist', photographer and videographer, and the co-founder of an experiential travel company, Origen Escapes. Bringing a huge amount of experience and an adventurous spirit to SubMerge, Ofer handles business development and marketing, manages new project opportunities and is the overall project manager, with responsibilities that include expedition design and management.
Ofer's role at SubMerge is the sum total of all the other aspects of his career – designing, planning, leading, guiding and operating – while his penchant for one-of-a-kinds and first-evers, offers exciting opportunities for SubMerge's clients. His extensive experience with private submersibles – as a pilot, expedition designer and operator, and within the submersibles industry – designing and participating in the creation of numerous patents, is overshadowed only by his passion and enthusiasm for them and what they can offer:
"They allow any human, from children and senior citizens, to non-swimmers and disabled, all the way to professional explorers, scientists and filmmakers, to experience the oceans. They are as comfortable and safe as riding or driving in a car."
The spirit of adventure first called to Ofer when he was about 16 years old, a natural curiosity drawing him to study National Geographics, and to research diving, sharks and photography. The same year as graduating high school, where he majored in electronics and computing, Ofer could be found exploring Australia, where he completed his PADI Open Water certification in the Whitsunday Islands. The underwater world offered a new and exciting environment to explore, one with few restrictions, limits or borders. Over the following years, he gained further diving qualifications, becoming both an open water and technical dive instructor, while at the same time working as a professional photographer and expedition leader.
While working as a dive instructor at Cocos Island, Costa Rica, Ofer took a chance opportunity to complete his Seamagine Deep Submersible Pilot (Triumph 3-man 1500ft) Certification (he went on to complete piloting certifications for two other submersible models in 2011 and 2018 and, to date, has logged over 300 hours as a pilot) to become one of the few submersible pilots in the world. This, added to Ofer's already unique combination of skills, opened up a whole world of opportunities and set him on a path full of adventure. From circumnavigating the globe onboard a superyacht as an expedition planner and leader and solo piloting the first ever deep submersible into an active crater of a volcano in the Galapagos to working as a documentary filmmaker and helicopter aerial cinematographer, to landing in the first Golf-Stream G5 Jet on an ice runway in Antarctica. And Ofer's greatest adventure to date?
"Creating, managing, operating and participating in an expedition that reached the South Pole."
For Ofer, SubMerge is an opportunity to both shake up the industry – creating change in the way that investments in ocean expeditions, for both explorer yachts and private submersibles, are managed – and to create unique life experiences, for private owners and for science and conservation. With the vast experience within SubMerge, of not just planning, design and operations, but also deep ocean mapping, deep ocean manned exploration and deep ocean ROV technology, this is most certainly achievable.
For Ofer, this is just the first step on the next great adventure.
"I would like to keep exploring remote locations underwater…to dive in a submersible to 1,000 metres and deeper."