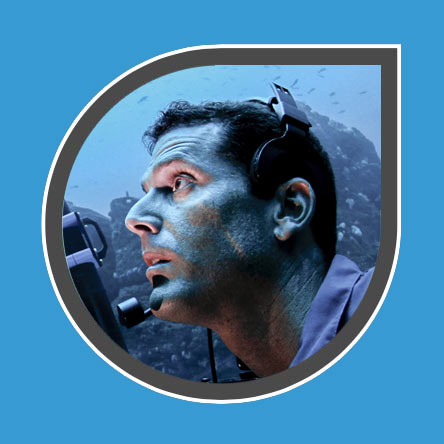 "Our operation connects people, technology and vision, to contribute to meaningful and inspiring discoveries."
Born and raised on the shores of the Red Sea, Shmulik Blum was introduced to the wonders of the deep at a very early age and it has been his great passion ever since. This love has steered many of his big life and career decisions, from becoming a submersible pilot, pilot trainer and technician to a yacht captain, underwater photographer, and co-owner of DEEPSEE Submersible.
Responsible for submersible operations and set-up, Shumlik is SubMerge's go-to person for submersible tech issues, dive planning, operations and logistics. His role, however, is much broader than this. Taking into account his extensive experience of operating submersibles around the world, it also incorporates expedition support and location scouting. With Shmulik on board, SubMerge clients can be safe in the knowledge that they are working with an extremely experienced and diligent submersible chief of operations.
"I'm motivated by challenges, and in 2005 the right opportunity came up to develop a conceptual project to build a one of a kind submersible."
After completing a degree in computer science and a series of advanced diving qualifications, Shmulik headed to SEAmagine in California. He embarked on a two-year project that involved developing and taking an active role in the construction of what would become the DEEPSEE, a 1500ft ABS class submersible. Custom built for exploration and user experience, on its completion the DEEPSEE became the vehicle for a wholly new concept- a submersible that could be chartered for science, filming and luxury experiences. The DEEPSEE has brought with it many opportunities, and over the 15 years as its operations manager, Shmulik has been able to share this experience with others on a daily basis, training submersible pilots and leading expeditions for numerous clients, from high-profile business people to scientists and conservationists to crews from Nat Geo, BBC and Discovery Channel.
"When we built our sub, there were 10 subs in private hands. Today they are close to 100…this shift in the market brings great opportunities…"
To Shmulik, the recent increase in demand, particularly around their popularity for private yachts, has its advantages. It forces this niche market to push boundaries and develop innovative technologies that contribute to the greater good. But there are also attitudes that need addressing, and it's in this that his hopes for SubMerge lie – a change to the market approach to the submersible, where they can be viewed as a toy. Far from it, the submersible is a complex machine, capable of sustaining human life at great depths, requiring a skilled crew to operate and maintain it. Then there's the meticulous planning necessary to design and operate expeditions that meet the needs and expectations of private owners. With its combined knowledge and passion, the SubMerge team can undoubtedly fulfill these criteria.
For a man who's greatest adventure has been being the first person to lay eyes on so many places underwater, for Shmulik pushing himself further, and deeper, and sharing that experience, is the only option.
"I am still dreaming of deeper diving submarines. Sharing such rare and magical moments with others, where you know you have created a transformation, is deeply fulfilling."